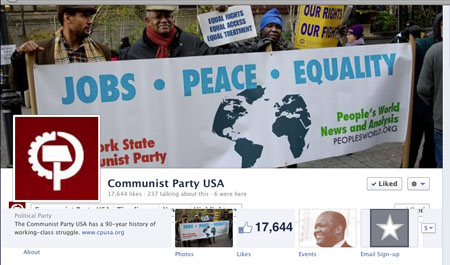 NEW YORK – As Communist Party chair Sam Webb noted in his opening speech for the 2nd annual CPUSA National Conference April 21, many of the delegates present were youth. With them came a modern medium for the journalistic and political environment: social media. That tool was one of the highlights of this important two-day event.
People's World editor Joe Sims underlined its significance, remarking, "The Internet has changed politics; you can't be a political party in America and not use social media as a major organizing tool."
"This is particularly true for" the Communist Party, he added. "The Internet is an organizer's dream. It's cheap, it's instantaneous, and it's interactive. You can organize a social revolution with a device that you can hold in the palm of your hand.
"Our websites give us a platform to participate in the national debate, and we do so, of course, from a pro-working class standpoint, emphasizing the bread-and-butter issues."
But even more important, Sims and others noted, is determining how best to build a community with others who are interested in fighting for democracy and a socialist future.
"Last year," said Sims, People's World "welcomed over one million visitors. Even better, 240,000 returned and visited the website on a regular basis."
In a presentation on social networks, Libero Della Piana, a party vice chair, went into further detail: "While [CPUSA Facebook page] currently has 17,000 people who regularly subscribe to our information, many more can actually see it." Thus, "the friends of all our 'fans' equal [approx.] 17.7 million. So potentially, all of them could end up seeing our stuff at any given time."
But the task of interacting with others and building community, Sims pointed out, was so much more than simply acquiring large numbers.
We have to ask ourselves, he said, "What do these numbers mean? Who are these people? Are we interacting with them? Are we organizing them on a regular basis? These are some important questions made even more important because of the rise of the Internet.
"We need to be engaged in the Facebook community. Our membership is engaged in it, and so are our children. They are expressing themselves, letting us know what they see as important.
"For us, this should be a no-brainer. We have always seen the role of our press as a collective organizer. Our founders saw it as a means to reach out and bring people together. We are challenged to use this technology in our fight; it's a big challenge.
"The people who 'like' us on Facebook are [often] engaging in a big political and ideological discussion. So a 'like' is like the prelude to a political first date."
A leader of the Young Communist League in Texas outlined a great example of how the youth are utilizing social media in a progressive fashion.
"We started a club and created a Facebook page for it," he said. "We also started a fitness club that in the last two years has changed my life.
"The idea is to give people something to see online, and then go meet the comrades in person. You can talk and chat on Facebook all you want, but then you've got to go out and show them you have the right attitude, and that there is no distance too far to see a comrade."
Della Piana acknowledged Facebook's vital role among YCL'ers. "This technology facilitates unique and unexpected things. One thing we have to focus on, though, is to make sure members and leaders are checking the CPUSA website periodically. One of the difficult things about Facebook and the Internet is that it's changing so rapidly. It's really up to us to adapt to those changes and keep up.
"Social networks and our online work allows us access to millions of people we would otherwise never meet. And while we can plan and prepare, there are many times when unexpected things happen because of social networks.
"We cannot predict the thing that's going to capture someone's imagination, or a political moment, or what people are going to do with it. But what is needed," he concluded, "is participation."
Photo: Libero Della Piana gives a presentation on Facebook and social media at the 2nd annual CPUSA National Conference. PW/ Blake Deppe
Comments