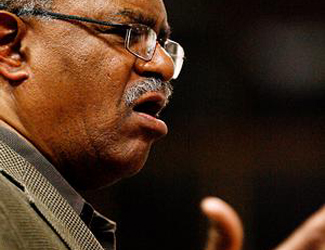 Excerpted from the Columbia Missourian
COLUMBIA — Jarvis Tyner, executive vice chairman of the Communist Party USA, spoke at MU on Thursday and said the election of President Barack Obama opens the door for the left wing, which he feels has allowed itself to be pushed to the sidelines and overcome with progress-impeding cynicism, to mobilize.
"He's only the beginning," Tyner said. "I think he's a transitional president. I think somebody else is going to come in and take it even further." The Communist Party USA
MU students protest the speech of Jarvis Tyner, executive vice chair of the Communist Party USA, with a mock gulag labor camp set up in Speaker's Circle at MU on Thursday.
Tyner spoke to an audience of about 70 people at MU's Ellis Auditorium. He focused on the transitional phase he feels the United States is in because of Obama's election.
Although the president is neither a communist nor socialist, his administration marks the country's movement away from the right-wing governments that have been dominant in the U.S. since the Reagan administration, Tyner said.
He said that while the Democratic Party is not without blame, the Republican leadership has been the source of the nation's problems that include an increase in poverty, a ruined economy, the continuation of global warming, impeded scientific research and the destruction of public schools by No Child Left Behind.
Tyner said he and his party are not completely satisfied with the work Obama has done since taking office, listing the need to withdraw troops more quickly from Iraq, for initiatives to end nuclear weapons and to re-establish trading relations with Cuba…
Read the full article at the Columbia Missourian
Comments
Related Articles