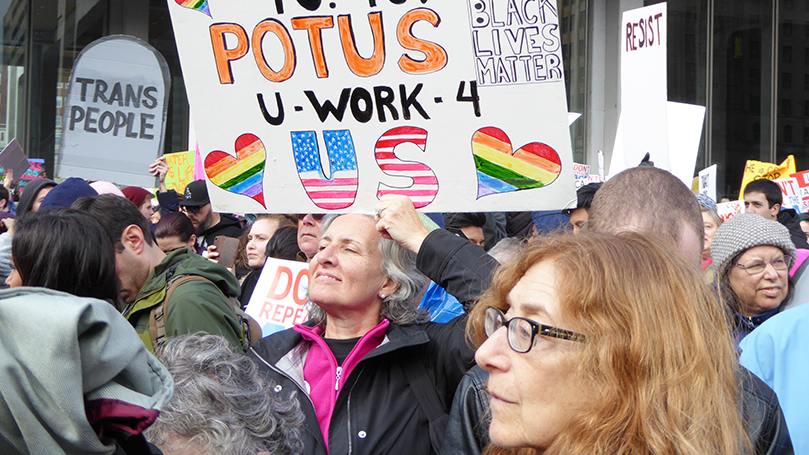 "The Trump administration is a clear and present danger to humanity" said John Bachtell, chairman of the Communist Party. "With each day the danger grows exponentially."
Bachtell will give the Communist Party's reply to Trump's address to a joint session of Congress tonight on Facebook Live.
Reviewing Trump's record since the inauguration the CP leader pointed to the administration's sharp turn to the right on immigration, national security and economic policy. Notwithstanding these efforts  Bachtell expressed confidence that the Trump agenda could be blunted if not defeated. "On key issues the president has been pushed back," Bachtell said. "The court's intervention on immigration is a case in point. But even on Obamacare Trump's promise to repeal and replace has been rebuffed by the complicated reality of health care on the one hand and the mass town hall protests on the other."
Bachtell expressed surprise at the depth and breath of protests. "It's incredible" he said, "From city hall to the shop floor, to the campus class room, people from all walks of life are rising up in resistance. We've never seen anything like it. Why whole state governments are resisting Trump's anti-constitutional agenda."
These efforts are necessary to arrest Trump's authoritarian tendencies according to the 60-year old Chicagoan. "Calling the press "enemies of the people,"  threatening to penalize protests by some GOP-led states  – it's extremely dangerous."
Bachtell noted that even hard right conservatives like former president Bush are pushing back against Trump. "Defending democracy is the central task of our times," he concluded.
The CPUSA's
Facebook Live
reply to Trump will immediately follow Trump's address to Congress.
Comments