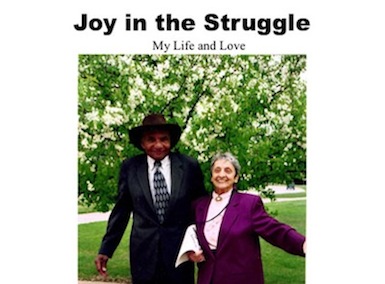 Cpusa.org takes great pride in offering a free downloadable book: Beatrice Lumpkin's "Joy in the Struggle-My Life and Love," a unique account of one woman's lifelong experience in the struggles of America's working class and people.
In "Joy in the Struggle" Lumpkin describes her personal experiences in the great working class struggles of the 1930s up to the election of President Obama in 2008.
Born in the East Bronx, New York City, she was part the unemployed struggles, the fight to free the Scottsboro Nine and Angelo Herndon, student strikes against war and fascism, the Congress of Industrial Organizations organizing drive and winning the "safety net" of Social Security¸ unemployment insurance and the minimum wage.
"There was great joy in these struggles," she said, "because of the victories we won and the feeling of empowerment."
As a defense worker in World War II, Lumpkin moved to Buffalo, N.Y., and met her love, Frank Lumpkin. Together, they defended the rights of steelworkers in Buffalo and the Chicago area.
Then Beatrice became an educator and worked to end racism in the schools. As lifelong members of the Communist Party, the Lumpkins worked together for revolutionary change.
"Socialism was the way out," Beatrice Lumpkin wrote, "the light at the end of the tunnel."
Dr. Jenny Carson, an assistant professor of history at Toronto's Ryerson University and one of Lumpkin's editorial collaborators for the book, says "Joy in the Struggle" is:
"A compelling account of an activist's 80-year struggle for worker and civil rights is a must read for anyone interested in today's struggles against inequality and injustice.
"Beatrice Lumpkin has spent the last eight decades on the frontlines of some of the most important battles for economic and social justice, including the fight to secure union rights and Social Security in the 1930s, the movement to end Jim Crow segregation and racism, the fight against U.S. imperialism during the Cold War, and the more recent battles to secure affordable health care for Americans.
"Activists and academics alike will find this a moving story about how one individual can help change the course of history."
Ed Sadlowski, retired steelworker and leader of SOAR (Steelworkers Organization of Active Retirees), says "Joy in the Struggle" is:
"A must-read inspirational tale of a woman who dares. Bea tells her story of life on the front lines. 'Joy in the Struggle' is a story that shines a light on all that is good; keen lessons, a life worth emulating to advance our struggle for a better world."
"Joy in the Struggle" is free, in PDF format, 253 pp, 10MB in size, with photos and hyperlinks. Click here and it will automatically download.
Photo: Beatrice and Frank Lumpkin from the front cover of "Joy in the Struggle."
Comments