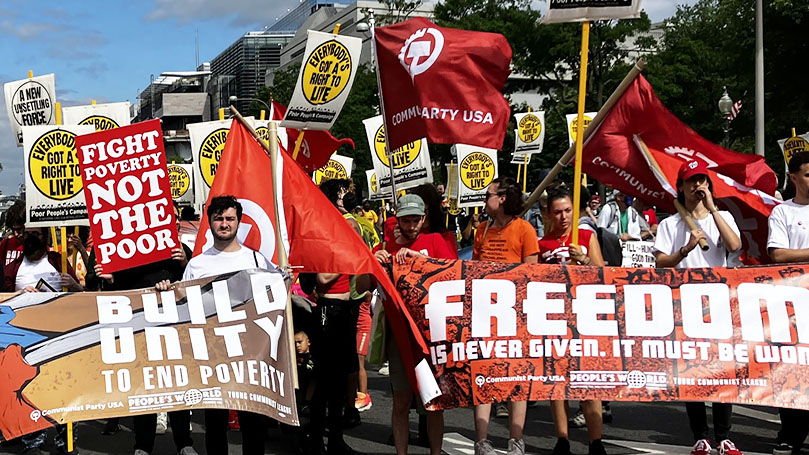 Our nation is increasingly run by a minority backed by corporate interests. The very structure of the U.S.'s limited democracy — gerrymandered districts, the Electoral College, the filibuster, and the grossly unrepresentative Senate — is intended to block the will of the people. And indeed it has, for decades. The onslaught by the U.S. Supreme Court overturning abortion rights, threatening voting rights, and undermining the ability of the EPA to fight climate change confirmed what we have long worried about: The extreme right's dangerous stranglehold on governance has grown significantly.
The fight for democracy has become more urgent.
The recent Court rulings, combined with the ongoing white supremacist coup attempt exposed in Congressional hearings and continued police killings of Black and Latino youth, make ever more clear the depth of what's at stake in the 2022 and 2024 elections and beyond. This crisis calls for unity and solidarity to protect and expand democratic rights for all.
The blanket right-wing attack on institutional democracy and people's individual rights shows the interrelationship of issues. The attacks on reproductive rights, easy access to guns, climate change, the threat to subsume voting rights to states' rights, and obstruction of bold pandemic relief while corporate profits soar — all these issues have something in common: they threaten our very lives.
A united response by labor and all democratic-minded people's organizations is essential. Building a movement that connects the issues to the urgency of voting can deliver the numbers to defeat those who are destroying democracy. Marches, petitions, direct action, door knocking, all leading to a massive voter turnout in November, can prevail despite corporate media predictions of a "red tide" election.
If the majority of people are organized to vote and express their will in the 2022 elections and beyond, it is possible to win. A few of the many examples to build upon include
Poor People's Campaign Seven Steps to Massive Voter turnout demanding action on poverty, racism, the war economy, and climate change
A new level of voter mobilization by the AFL-CIO and SEIU of union members and their families and new organizing by Starbucks, Amazon, and other workers
Women's organizations of all kinds locally and nationally, with their allies, demanding abortion health care and gearing up for the elections
Youth formations like Run for Something training progressive candidates for local office
Movements for climate justice, immigrant rights, police accountability, and for gun control marching and registering voters.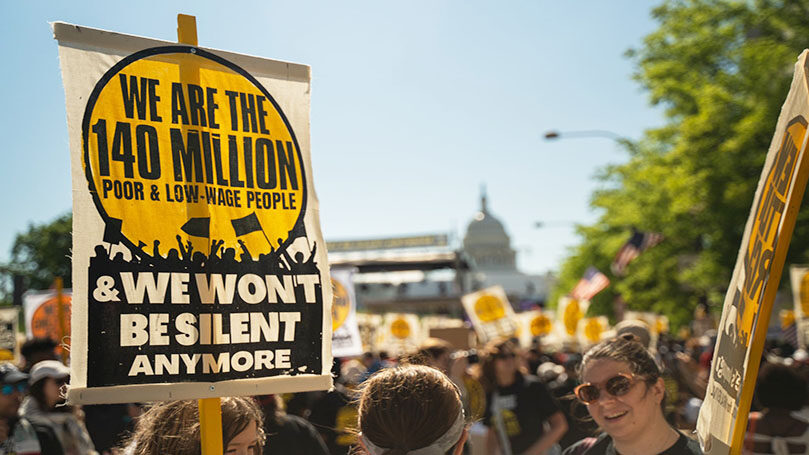 As Communists, we understand the necessity and strength of a broad united front — joining together on those things of common agreement to repel the fascist drive that hurts all.
A strong Communist Party is a necessary component of a strong united front. We join with others to make demands — like $15 and a union, or shifting funds from the military budget to human needs — without excluding those in the broad movement who disagree.
The interrelated crises are part of the crisis of capitalism. The need for systemic change and socialism is bringing many new members to the Communist Party USA.
A massive, collective voter turnout can defeat that "red wave," and the threat to our very right to vote in 2024. That is the essence of this fight to inspire and organize a massive voter turnout as part of building an ongoing movement to protect and transform democratic rights for all. When we fight together we win together.
The National Board with the Political Action Commission have adopted the following Call to Action proposals:
COUNTDOWN 2022:
— Dedicated space on cpusa.org website geared to mobilization efforts of clubs and districts: "Countdown 2022" (Number) of days to vote. Show what is being done across the country and how to get involved. Link to register to vote site. Link to join CPUSA. Highlight weekly podcast news of the week. Create campaign atmosphere and highlight local election work in What's New @ CPUSA.ORG.
— Circulate People's World articles on the struggle for democracy and the 2022 elections with allies, comrades, and friends to help build broad united people's unity and action. Help clubs and districts prepare local articles that give examples to get out the vote and build a lasting movement.
— Pamphlet on the fight for democracy for wide circulation as an ideological contribution to get out the vote. Show the dangers to democracy and interconnections of issues — what the Supreme Court has done, what Republicans have in store: national ban on abortion, eliminate separation of church and state, unlimited guns, no money for human needs, no limits on fossil fuels. Show the ability to struggle and win.
— Webinar and/or seminar on how to organize at the local level. The issues and how we present the issues as a major step to get out the vote. How we join with all organizations fighting for democratic rights.
KEY RACES
— Identify key races at state level and Congress where an extreme right-wing candidate can be defeated or where a champion for worker rights can be elected or has to be protected. Assist districts and clubs in developing a strategic approach that builds broad unity to mobilize the vote around issues, working with unions and other people's organizations.
— Possible weekend teams from nearby districts to work with comrades in a key battleground race, to be planned out with our national organization.  
BALLOT INITIATIVES
— Mobilize around ballot initiatives that defend and expand democratic rights to inspire voter participation and turnout. Examples:
AZ Petitioning for ballot initiative to amend state constitution to legalize abortion.
CA Governor initiative to put legalizing abortion on ballot statewide. AND Los Angeles city-wide ballot initiative to tax the rich and end homelessness.
IL Workers' rights ballot initiative to amend Illinois's constitution affirming the right to collective bargaining and outlawing "right to work" legislation.
MI Ballot initiatives for constitutional amendments to protect reproductive rights and voting rights.
CLUBS & DISTRICTS
— Provide resources to help clubs build the movement around issues where they are and connect to the urgency of this election for self, kids, parents. Build a base by going door-to-door to talk issues, register voters, get out the vote, and build relationships through weekly readers of People's World.
— Participate with unions, community and youth groups in door knocking and mass gatherings to build enthusiasm and confidence to defend democracy, register voters, and get out the vote.
— Consider possible future candidates for local elected office among club members and lay the groundwork with all-out organizing to get out the vote in this election, consulting with state leadership and the Communist Candidates subcommittee of Political Action Commission.
Images:  Poor People's Campaign March on Washington, 6/18/22, photos, Dylan James.

Comments