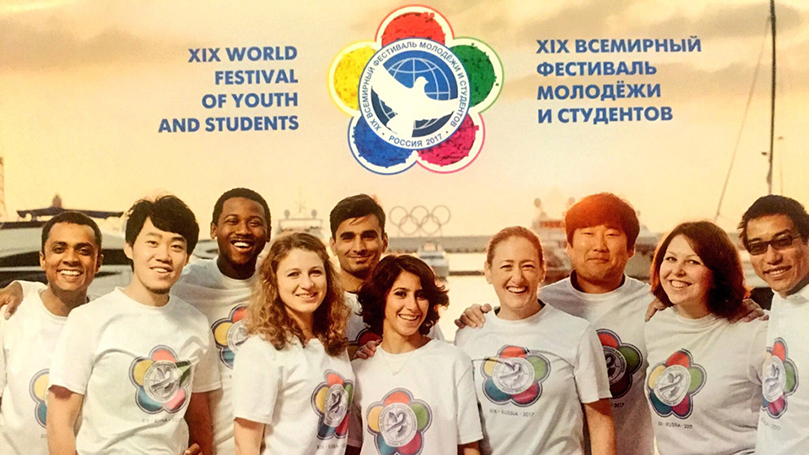 The CPUSA youth delegation—joining with 50,000 progressive youth from over 183 countries— will be gathering in Sochi, Russia for the 19th World Festival of Youth and Students (WFYS) October 14-22, 2017. Centered on the struggle against imperialism, fascism and racism, the festival will honor the 100th anniversary of the great October Revolution; the 70th anniversary of the of the Festival Movement; and the memory of Ernesto "Che" Guevara and Mohamed Adelaziz.
Our world has been dominated far too long by imperialism, and the WFYS will provide an amazing opportunity for youth to share and work together towards a united struggle against fascism, racism, xenophobia, and discrimination; and to promote peace, solidarity, friendship, universal education and healthcare.
The Communist Party USA is proud to send a delegation of diverse and committed young leaders from across the country to attend the festival. Among the delegates are young workers, unionists, organizers, activists, students, journalists, and artists.
Through our direct involvement in national movements, like Fight for $15 and Black Lives Matter, we bring frontline insight and experience into the struggle for workers rights and the fight against racism.
We also dedicate ourselves to working within our communities to protect the rights of immigrants, refugees and women, while continuing the fight for access to affordable housing, and to protect and expand voting rights.
We are excited to share our work and experience, and are committed to strengthening our relationships with our international sisters and bothers.
We need you to help make this trip successful. Will you make a contribution to help cover a delegates travel cost? This will be an investment into the learning and development of future cross-generational leadership that will build and strengthen CPUSA.  You can contribute here.
With the threats of fascism at home and abroad, it is time to support future leaders: NOW!
Yours in solidarity,
CPUSA Delegation
19th World Festival of Youth and Students
Comments