Welcome to the Home Page of the Communist Party's 29th National Convention!
The Convention was a big success. Below are some of the reports, videos and results of the Convention. You can also find links to all the discussion documents and preparations leading up to the Convention. Thanks to everyone who helped make the event such a big success!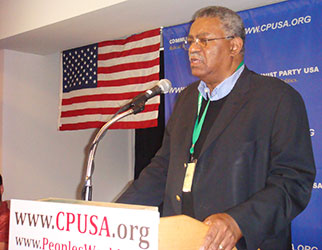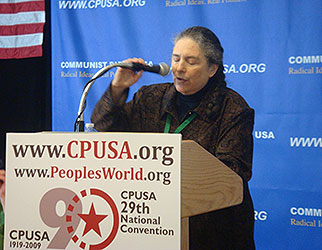 Results of the Convention
Main Report
Main Report: A way out of the deepening crisis by Sam Webb
VIDEO: Sam Webb's opening remarks at the Convention
VIDEO: Sam Webb's closing remarks from the Convention
Special Convention reports
Report on Political Action & the 2010 Elections
Report on the Fight for Equality
Report on the Struggle for Peace
Report from the Constitution Committee
Report from the Program Committee
Report on the Young Communist League
VIDEO Presentation: Report on the Fight for Jobs

Resolutions adopted by the convention
Communist Party Resolves: Jobs is the defining issue
Communist Party Resolves: Build united action against racism and for unity
Communist Party Resolves: All hands on deck for the 2010 midterm elections
Communist Party Resolves: Immigrant rights is a struggle for democracy
Communist Party Resolves: End the wars – fund human needs not militarism
Communist Party Resolves: Build the party, press and YCL
International greetings
Greetings from fraternal and friendly parties worldwide
Ninetieth Anniversary celebration
VIDEO: 90th Anniversary musical and political event
Coverage of the Convention at peoplesworld.org
Communist Party convention opens in new York
CPUSA delegates eye November Elections
Highlights from CPUSA's 29th Convention
C-SPAN boradcasts CPUSA convention keynote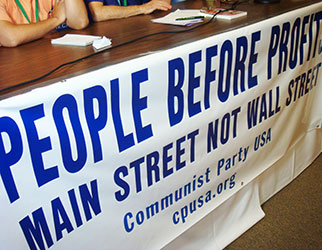 ---
Lead up to the Convention
The Convention Call
A Call for United Action
En Español: Llamado por un Frente Unificado para la Acción
Online Registration
Registration for delegates and guests
Join the Pre-Convention Discussion!
Pre-Convention Discussion Guidelines  • En Español: Guía para la discusión pre-Convención
Pre-Convention Discussion
Discussion Kick off
Other Information about the Convention
U.S. Communists Plan 29th Convention, call to action
En Español: Los comunistas norteamericanos se organizan para la Convención Nacional