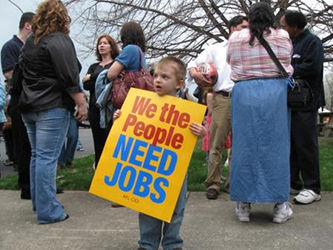 The Communist Party National Convention is just three weeks away and we have one final live video presentation as part of the pre-Convention discussion tomorrow evening.
Later this week is Workers' Memorial Day and May Day – International Worker's Day. All over the country, local demonstrations are planned, targeting Wall Street as the main cause of today's economic and jobs crisis, and to defend labor and immigrant rights.
In the midst of the national movement for jobs and as part of the Communist Party's own ongoing campaign for jobs and relief, we are presenting a national live broadcast of a presentation by CPUSA Labor Secretary Scott Marshall. The brief presentation will be followed by answers to questions from participants.
You can watch the video live on this page. Make sure to test to see if your computer can play the video by reading the system requirements at Ustream.tv ahead of time. If you have trouble with the video, you can also call in to hear the presentation by telephone. To participate by phone, call (605) 475-4850. Dial 1053538# when prompted. (Long distance fees from your carrier will apply.)
You can send questions ahead of time to questions@cpusa.org or submit questions live during the discussion by watching on the Communist Party's Ustream video channel. The video will also be available for viewing following the event.
The Fight for Jobs
Pre-Convention Discussion Presentation with Scott Marshall
Tues, April 27, 2010
8pm Eastern time