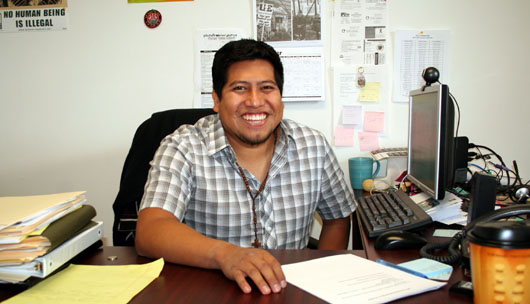 On the second day of the Southern Organizing Tour, Scott Marshall decided to check out a workers center in Springdale, Ark. It was a four hour drive, but it was worth it. We met a young man named Fernando Garcia who has been helping low-wage workers recover wages stolen from them by unscrupulous bosses. Many of the workers are Latinos, and a lot of them, because they are undocumented, make fairly easy victims for crooks in the poultry and food service businesses. Bosses shortchange the workers, refuse to pay them their legal overtime pay, and sometimes just refuse to pay them at all, but they don't reckon with Mr. Fernando Garcia and the "Centro de Justicia" in Springdale.
The workers center in Springdale was originally the product of one woman working from her home. It grew into the present operation, where three full time and one part-time employee help hundreds of workers. Garcia began as a part-time helper during a summer break from college at the University of Arkansas in 2007. During that same period, he recounts, the total number of workers centers associated with Interfaith Workers Justice has grown from 18 to 27.
Garcia is trained as a mechanical engineer with only a few college credits to complete, but he admits that helping people through the workers center holds so much satisfaction for him that it is pulling him away from his original career plans.
While in Springdale, we met another man from that Northwestern part of Arkansas. He had applied to join the Communist Part on line, but wanted as much information as he could absorb in the short time we had to offer. After that, we rushed back to Little Rock in time to meet with five young activists at a pizza pub. Over beers, we established that one young college freshman had considered himself a Communist for some time. He had read the Communist Manifesto, and carried a copy of it in his cell phone.
The other four guys all knew one another, and had formed themselves into an anti-fascist group. They told us that neo-nazis were active in Little Rock. At the same time, they were all too aware of the crisis gripping our nation. "I feel like my world is falling apart," is how one of them described the crisis. He had plenty of evidence to back it up, too. All of the activists knew people who are unemployed. Most of them had stories of injustices committed by employers, including Wal-Mart, which is headquartered right here in Arkansas.
Scott explained how the party works and how party membership can make everybody more effective in the fight for a better world. Talking to these excited young men was invigorating! It was a little bit hard to tear ourselves away to get back to our motel, but we knew we had to get up early for the three-hour drive to Memphis, where we start the day with a 10 a.m. coffee shop meeting. We'll be at a university there in the mid-afternoon.